Best led flashlight brands on sale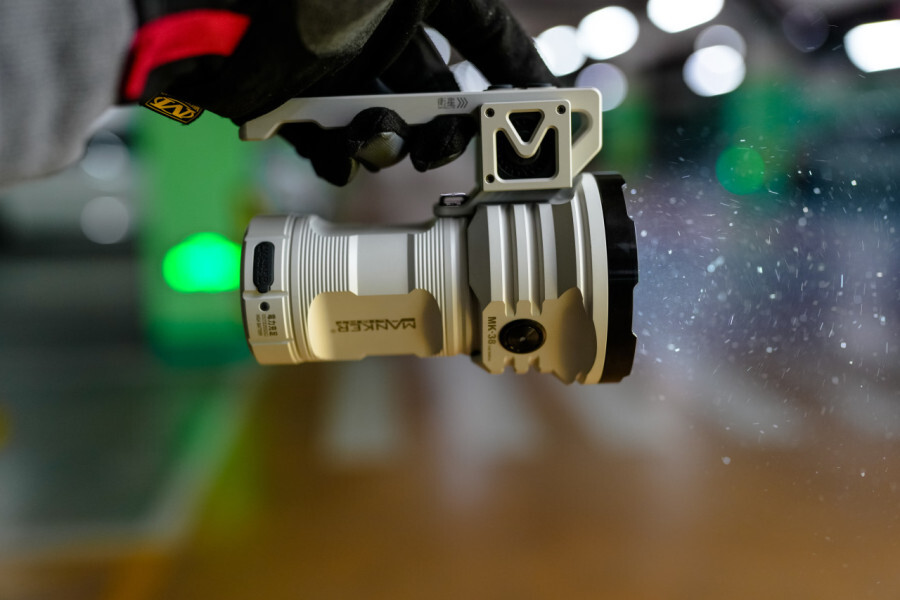 Manker MK38 - New Release
Wednesday, 24 August 2022

0

571

0
Manker Mk38 offers 3 different types of LEDs, 8x XHP70.2 Cw, 8x XHP70.2 NW and 8x Luminust SFT40. Manker MK38 is available in oxidation options, Type-III hard-anodized Oxidation (Black), micro-arc oxidation (white), micro-arc oxidation (grey). If you choose LUMINUS 90.2 led, the maximum can reach 41500lm. Manker Mk38 has double-sided high-quality cooling fins to improve heat dissipation performance. The handle has a built-in dual-row cooling fan, which can effectively blow the heat sink out. The Manker Mk38 is able to meet a variety of lighting needs.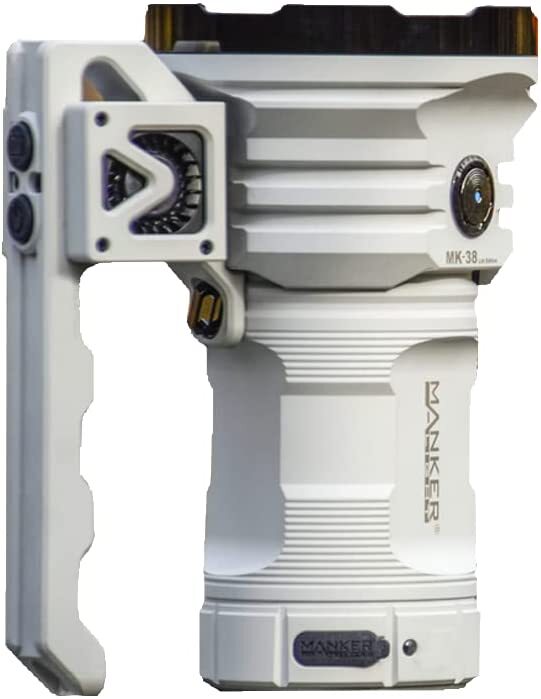 The Manker MK38 main specifications are shown below:

Here are the Features:
1. Integrated precision digital optics technology provides extreme reflector performance
2. Utilizes dual-sided AR coated, 99% transmittance toughened glass lens
3. A step-down constant current circuit design with an efficiency rate up to 98%
4. Buil-in 10.8V / 4200mAh li-ion battery pack (made by 3x 3.6V/4200mAh 21700 battery cells)
5. Fast USB Type-C charging with discharging function available
6. 1.8 hours for full charging, 1.5 hours for full charging over 90%
7. Built-in intelligent adaptive charging and discharging function and protocols of QC3.0 & PD3.0
8. With advanced intelligent temperature regulation module, MK38 regulates its output and adapts to the ambient environment, maintaining optimal performance
9. Electronic reverse polarity protection and over-discharge protection
10. Integrated power indicator under the side switch indicates remaining battery voltage
11. Integrated indicator near USB-C port indicates the status of charging & powerbank discharging
12. CNC machined from durable aircraft-grade aluminum alloy
13. Surface finish (option): Premium type-III hard-anodized or Micro-arc oxidation
14. Stainless steel strike bezel is used to break windows in an emergency situation
15. Triple-interface on flashlight head: Stainless steel side switch, UNC1/4" triple hole, waterproof 4PIN connector socket
16. Built-in UNC1/4" tripod hole, MK38 can be directly mounted to a tripod, turning it into a camp light or a fixed supplementary light
17. Utilizes stainless steel side switch with CD pattern surface for good touch feelings
18. Detachable handheld handle meets various lighting demands
19. Triple-sided premium cooling fins improve heat dissipation performance
20. Built-in double-row cooling fans on the handle to blow effectively cooling fins through outside
21. Convenient tail-stand capacbility
22. Multi-switches design, clear division:
- Stainless steel side switch control the light to turn on/off and change modes etc
- Front switch on handle control 2x waterproof cooling fans to turn on/off
- Rear switch on handle control the light to turn on/off and change modes etc
23. User interface is simple and friendly, easy one-hand operation:
- From OFF, long press to ECO modes.
- From OFF, single press to General modes.
- Double click to Turbo from any modes (except LOCK-OUT)
- From OFF, quick triple click to Special modes (Strobe / Beacon / SOS to select)
Click here to buy it (15% off coupon code: MK38): Manker MK38


Your cart is currently empty.