Best led flashlight brands on sale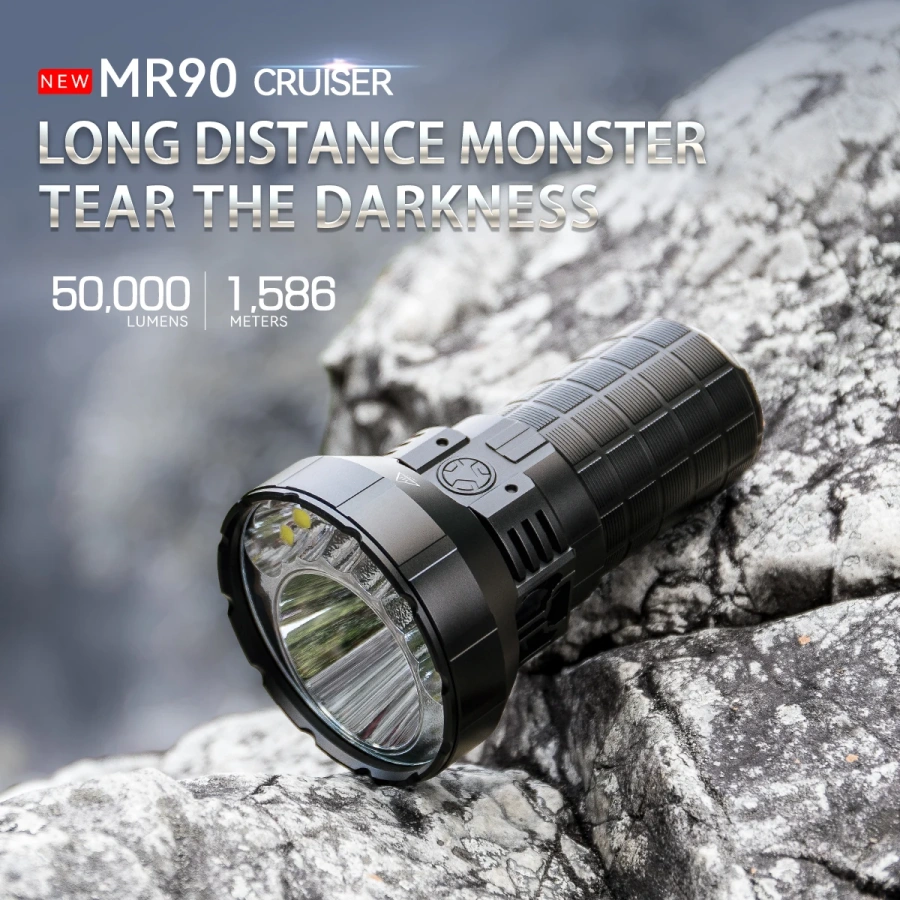 A new high-performance rechargeable search flashlight -- Imalent MR90
Thursday, 26 May 2022

0

1055

0
Imalent MR90 is a new high-performance rechargeable search flashlight that combines spotlight and floodlight from Imalent. Now, let's discuss from its features and applicable scenarios:

1. Features
(1) The Imalent MR90 utilizes 8 pieces of American CREE XHP702nd LEDs and 1 piece of Amercican LUMINUS SBT90 2nd LED.
(2) Three modes optional. With the light on, press three times the power switch button to cycle from Sopt adn Flood mode to Spot mode, and then to Flood mode.
① Spot and Flood: 2,000lm / 6,000lm / 12,000lm /18,000lm / 30,000lm
② Spot: 1,300lm / 4,600lm / 7,800lm / 15,000lm / 27,000lm
③ Flood: 700lm / 1,300lm / 1,800lm / 2,800lml / 3,500lm
(3) Constantly on at 12,000lm, and Long runtime up to 52minutes at 12,000 lumens.
(4) The Imalent MR90 has an advanced configuration -- Two high performance cooling fans. The fans will be turned on automatically when it is at 12,000 lumens or higher output levels. Press and hold the power switch button for 4 seconds to trurn on the cooling fans when the flashlight is off. (5)The Imalent mr90 uses a metal switch button, it can be operated with one hand.
(6) Imalent MR90 has a locking function, which can effectively prevent the flashlight from being accidentally activated.
(7) The Imalent MR90 has reliable and readable battery status. With the flashlight on, when the battery is low, the red indicator willflash at 2Hz to remind users to replace the battery or charge it. Imalent MR90 has a built-in lithium-ion battery pack, including 4pes 21700 batteries.
(8) The peak beam intensity is 629000cd, the waterproof rating is IP56, the weight is 893g, and the dimensions are 92mm(head diameter) * 56mm (body diameter) *152 (length)mm.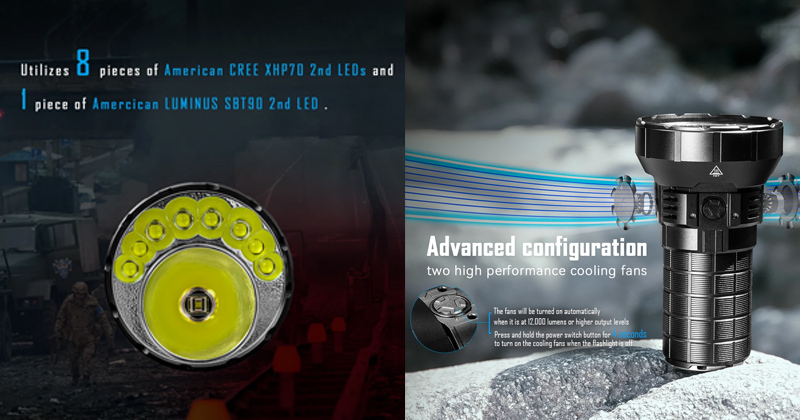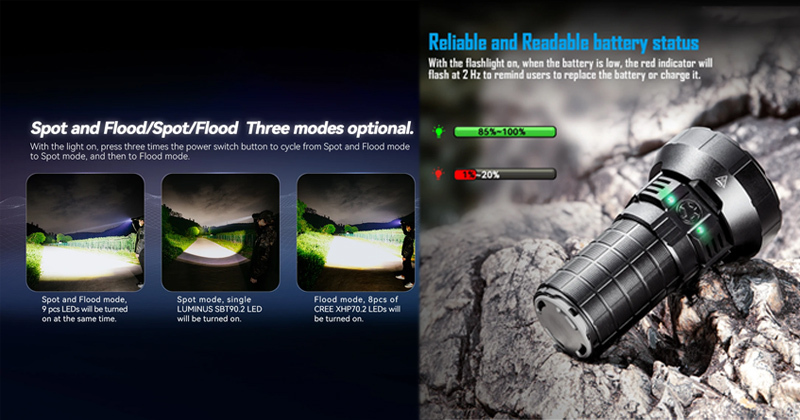 2. Applicable scenarios
It can be used outdoors and in various extreme environments, and is a good helper for outdoor adventure, archaeology, and camping, etc..
For Preorder, we offer a 15% off coupon code: MR90 for you. It will send within this month. Here is the purchase address:
Imalent MR90: https://www.flashlightbrand.com/imalent-mr90-1-x-luminus-sbt90-2nd-led-and-8-x-cree-xhp70-2nd-leds-50000-lumens-1586-meters-spolight-flashlight-search-light-p4164045.html

Your cart is currently empty.